Click to see presentation video: Apartment 170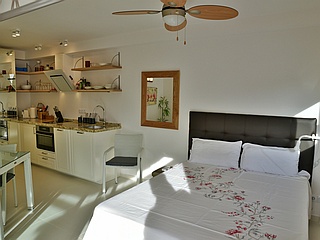 Apartment 170 is 20 m2 with a 20 m2 terrace, and suitable for two adults sleeping in a double bed. The apartment is 100% renovated to a high standard in modern Scandinavian design. It is equipped with A/C, as well as underfloor heating. Although the apartment is studio size, 20 m2, every effort has been taken to make efficient use of the space, giving it a bright, light and roomy feel.
Terrace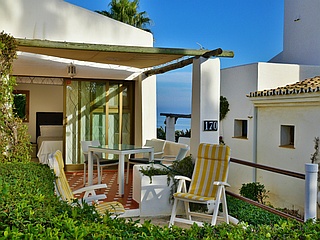 Apartment 170 is situated to the south and west, providing sun on the terrace from around 10 or 11 in the morning, and until sunset. The terrace is thus nice and warm in the evening, even in winter months. The terrace is 20 m2 in total and offers partial sea views.  The high quality patio furniture can also be used as indoor furniture.
Kitchen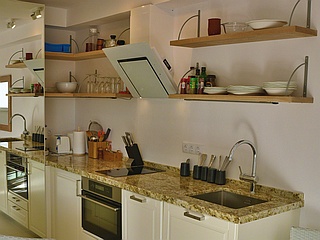 The kitchen is modern and efficient, especially for a studio sized apartment, offering ample tabletop space for food preparation, as well as a dishwasher. There is a also an oven, as a combination of a convection and a microwave oven. Thus you are able to cook all your meals in the apartment if you so wish. The beautiful granite tabletop is hygienic and easy to clean.
Living space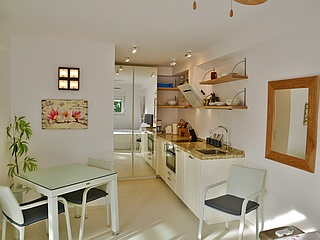 The living space in the studio is surprisingly good, offering sufficient space for two to dine indoors at the dining table and in comfortable chairs. This furniture can also be used outdoor. The double bed is equipped with a soft bed gable so you can sit and watch television or read. The flat screen TV has Spanish channels and free English and German channels.
Sleeping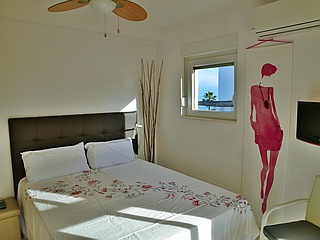 The studio is furnished with a modern and very comfortable full double bed measuring 150 x 190 cm. You can use the space under the bed for storage; any luggage less than 27 cm will fit under it.
Bathroom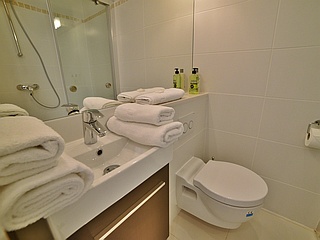 The bathroom in white and Travertine marble is light and welcoming, and featuring a large 80 X 125 shower. It is designed with attention to detail and equipped with modern, high quality fixtures.
Costa Natura Apartment 170 plan drawing