Click to see presentation video: Apartment 176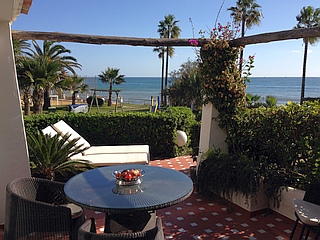 Apartment 176 is 30 m2 with a 16 m2 terrace, and suitable for two adults. The apartment has been completely renovated to an exceptionally high Scandinavian designer standard. It is equipped with full A/C. The apartment is in a prime location in the first line; one of the best at Costa Natura. As it is located far away from the road, traffic noise is no issue; you will only hear the sound of the waves.
Terrace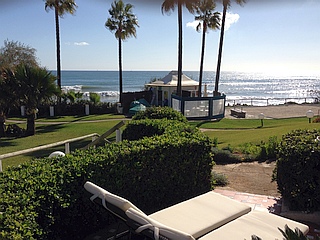 Apartment 176 is situated to the south and east, providing sun on the terrace from early morning until mid-afternoon. The location is absolutely superb in the first line and directly onto the lawn, beyond which the beach awaits. Privacy is secured by a low hedge. The sweeping sea views from the terrace are breathtaking and inspiring. The patio furniture and sunbeds are of very high quality.
Kitchen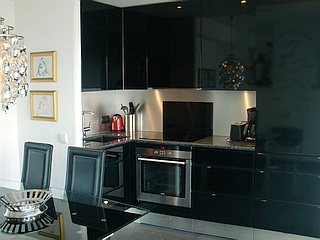 The modern kitchen with a beautiful granite worktop is fully equipped, even with dishwasher, microwave oven, etc. You are able to cook all your meals in the apartment if you so wish.
Interior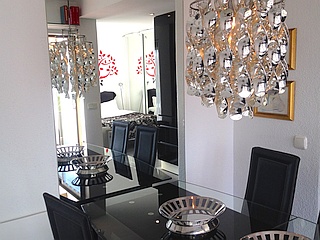 The interior is modern and stylish, featuring high-end furniture and details and even two luxury reclining leather chairs – perfect for reading, etc.
Sleeping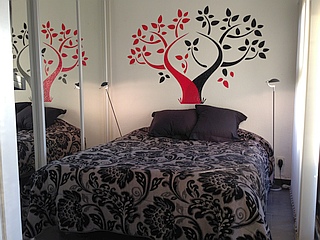 The apartment is furnished with a modern and very comfortable full double bed measuring 150 x 190 cm. The bedroom also features a very large wardrobe that will swallow even the largest amount of luggage. The wardrobe doors are mirrors making the space feel much larger and brighter. You can also use the space under the bed for luggage storage.
Bathroom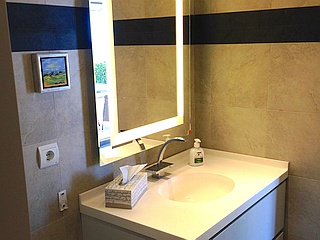 The bathroom is spacious, light and welcoming, equipped with a luxury shower with Body Massage Spray Jets. As an extra convenience, the bathroom features a washing machine and a dryer. Everything is designed with attention to detail with modern, high quality fixtures.