Architecture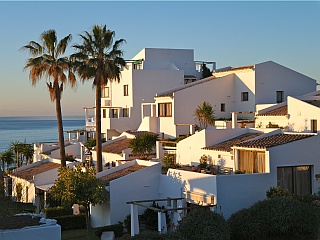 Costa Natura is built like a traditional Andalusian mountain village with white-washed houses and terracotta roof tiles. The grounds are designed with lovely flower beds, lawns, palm trees and paths integrated with the buildings creating a wonderful effect of being close to nature. The result is a beautiful and interesting site, giving new impressions and surprises around each corner.
Restaurant & Bar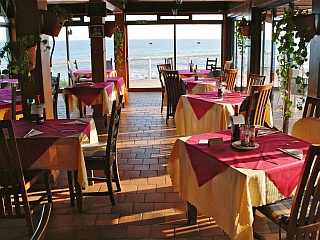 The resort has its own restaurant with bar that serves good food throughout the day and always has a very good value 3 course "menu of the day". From the a la carte menu some of our favorites are "Fish baked in Sea Salt", "Prawns Pil-Pil" and "Andalusian black bean soup". In the high season there is a variety of entertainment in the evenings, while in the low season it is 1-2 times a week.
Beach Bar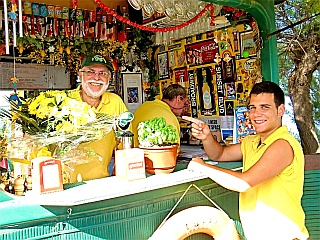 "Reneto's" cozy beach bar is open in the daytime from Easter to October and serves ice cream, drinks, snacks and light meals. The bar is next to the petanque court – convenient if you play. It is a very nice place for lunch and among others we recommend the excellent sandwiches. One of Renato's great cocktails, enjoyed in the afternoon sun, is another must.
Pool, Jacuzzi & Sauna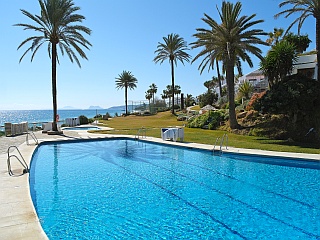 The large pool is solar heated and open throughout the year as is the sauna and jacuzzi. There is also a small toddlers pool. In season volley ball, yoga and aqua gym are popular activities that are open for all who wish to participate. Costa-Natura also features petanque, shuffle board and table tennis. If you enjoy reading you can borrow books in the resort "library".
Beach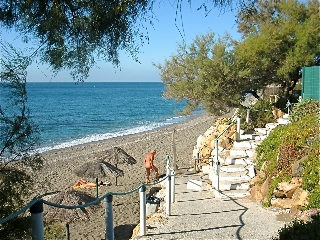 Costa Natura is located on an official public naturist beach, the first official naturist site in Spain. From the resort there is direct access to the beach via a few steps. The beach, stretching more than 500 meters, is sandy with some pebbly areas. Bathing and swimming is best 50 meters west of the steps as there are some rocks in the ocean directly opposite the steps.
Shopping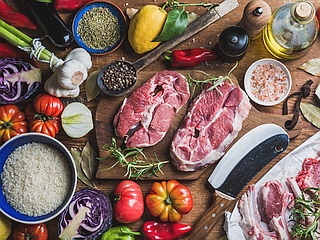 There are two supermarkets just across the road from Costa-Natura, Aldi and Mercadona, the latter has a full assortment including fresh fish. A Carrefour hypermarket is located at the other end of Estepona, some 8 minutes drive from Costa Natura via the A-7 motorway in an easterly direction."