Costa Natura 169, 170 and 176 are wonderful 1 bedroom apartments in Spain's oldest Naturist resort. They are completely renovated with eye for detail and quality; the interiors are modern Scandinavian style. All feature air conditioning, fully equipped kitchens, modern bathrooms, and double beds. Apartments 169 and 170 as well feature underfloor heating.
Apartment 169
30 m2 apartment + 30 m2 terrace in two levels.
Apartment 169 has a superb view from the upper terrace. As the apartment is situated to the south there is sunshine from sunrise to around 6 in the evening.
---
Apartment 170
20 m2 apartment + 20 m2 terrace.
Apartment 170 is situated to the south and west, with sun on the terrace from around 10 in the morning until sunset. The terrace is 20 m2 in total and offers partial sea views.
---
Apartment 176
30 m2 apartment + 20 m2 terrace.
Apartment 176 enjoys an absolutely superb location in the first line and directly onto the lawn, beyond which the beach awaits. Privacy is secured by a low hedge
---
| | Apartment 170 | Apartment 169 & 176 |
| --- | --- | --- |
| January & February | 51€ | 71€ |
| March & April | 68€ | 92€ |
| May & June | 83€ | 113€ |
| July & August | 113€ | 138€ |
| September | 83€ | 113€ |
| October | 68€ | 92€ |
| November & December | 51€ | 71€ |
---
Costa Natura is located on an official public naturist beach, the first official naturist site in Spain. Enjoy a morning swim as soon as you wake up!
More about Costa Natura Naturist Holiday Resort

Costa Natura is a holiday resort providing the perfect setting for a naturist vacation for the whole family. Sitting directly on the beach, it looks like a typical Andalusian village with 200 white-washed modern houses and apartments set in lush, undulating sub-tropical gardens filled with flowers, palm trees and lawns, separate swimming pools for children and adults, a restaurant, bar and beach bar, jacuzzi, sauna, volleyball court, petanque court, children's playground, table tennis, launderette and even a library. In the high season an animator keeps the children busy and there is entertainment in the restaurant in the evenings. Costa Natura simply teems with happy naturists of all ages. At other times of the year the resort is more club-like with a relaxed atmosphere making it easy to meet and get to know fellow naturists.
All apartments are individually furnished and owned by naturists from around the world including England, Ireland, France, Spain, Italy, Germany, Denmark, Norway, Switzerland, Austria, Belgium, the Netherlands and USA. The owners run the resort through a Community which employs gardeners, maintenance staff and cleaners to ensure that Costa Natura is always well maintained and well presented. Restaurant, beach bar and the reception are operated by other professionals under contract to the Community of Owners.
The developers of Cap d'Agde in France believed that Costa del Sol, with 320 days of sunshine a year, would make an even better location for a new naturist resort. They therefore bought the land adjacent to Costa Natura Beach in Estepona, which had been an unofficial naturist beach for years. It was subsequently declared the first public naturist beach in Spain and is also popular with guests from the neighbouring 5-star hotel Elba and locals who enjoy naturist bathing and sunbathing. Access to the resort is restricted to residents, so Renato's Beach Bar has two fronts – one facing the public beach and the other facing the resort.
Dress code
Costa Natura is a naturist resort and most people don't wear clothes whenever possible. Nudity is not mandatory but it is considered normal anywhere in the resort including the reception and the launderette. However in the pools, the sauna and the Jacuzzi, swim costumes are not allowed. Dressing up in the evenings is part of the holiday experience for some while others prefer nudity throughout their entire stay and there is opportunity for both. Many guests who wish to dine without clothes also want to catch the last evening sun which they can on the restaurant's covered poolside terrace. For breakfast and lunch nobody would dream of dressing.
When you don't wear clothes remember to always bring something to sit on. A towel can also be used if you need to cover up and some women find a longyi or wrap-around more stylish than a towel, but never wear a swim costume which many naturists perceive as a dissociation from the essence of naturism.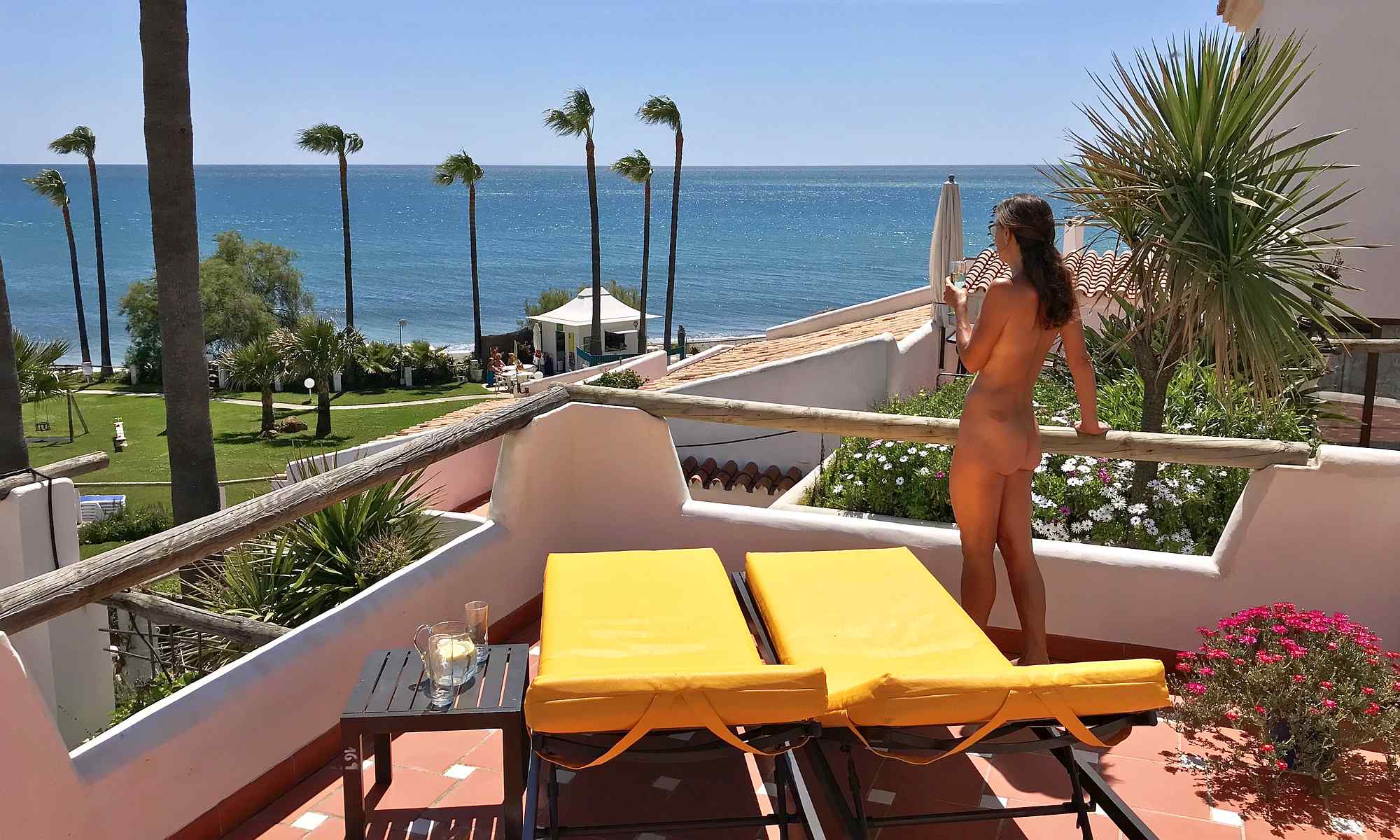 About Naturism
Naturism, or Nudism as the Americans call it, FKK to the Germans or "Freikörperkultur", originated in Germany just over a hundred years ago. That was at a time when the world saw a host of initiatives right across society including new academic thinking, the popularizing of sports, the scout movement and naturism with its belief that nudity is the shortest route to a healthy mind in a healthy body. At first naturism was practiced by a minority behind tall fences but it has since moved a long way and public beaches have been set aside for naturist swimming and sunbathing in many countries. The travel industry has also responded to the increasing demand for naturist holidays and accommodation. For example, it is believed that as many as 10% of the Dutch population or 1.5 million people in that country alone will use naturist beaches or go on naturist holidays at some time.
The official Spanish attitude to nudity is surprisingly liberal and no law exists which prohibits nudity in public anywhere. As a result there are beaches used by naturists all along the Spanish coastline and on Lanzarote, Fuerteventura, Tenerife and the other Canary Islands.
At Costa-Natura naturism is practiced in a friendly and laid-back atmosphere. Everybody talks to everybody and guests are made to feel very welcome. It is as if people shed most of their inhibitions and preconceived ideas when they slip out of their clothes and differences in fitness, age, health, appearance and even social rank appear almost irrelevant. So whether you are an ardent naturist, somebody who enjoys nudist beaches or naturist swims, or someone who would just like to give it a try, you will find Costa-Natura the right place for the perfect naturist experience.
More Information
Activities near Costa Natura
Nature near Costa Natura
We also have a wonderful house in Sweden for rent, which a suitable for naturists. Click here to learn more: Schwedenferienhaus (the website is in German).